Eternally Yours:
Keeping Eldorado Ballroom 2023
This past early spring, Brooklyn Academy of Music (BAM) presented their 2023 music series, "Eldorado Ballroom," curated by Solange Knowles for Saint Heron. The program demonstrated an anomalous approach to celebrating the intergenerational expressions of experimental and transcendent performance through the decades. Solange's dedication to reverencing and preserving the works of Black practitioners through Saint Heron continued with the series' lineup consisting of contemporary and historic creative revolutionaries whose artistry and innovation has left a profound mark on music and performance art.
"Eldorado Ballroom" was inspired by the historic Black music hall in Solange's native neighborhood, Houston's Third Ward, where her love for performance began. Each night was programmed to calibrate new artistic territory exploring themes that fulfill Solange's own personal practice. Through each show, the multi-generational audiences of Saint Heron's and BAM's communities experienced celebratory and tributary performances that honor the blueprints of these themes in tandem with younger generations reinventing the genres today.

Photography by Bolade Banjo
Contained in togetherness, audiences sang, danced, clapped, hollered and swayed their raised hands as icons of various performance styles seeded gardens of Black innovation on stage. The series was a live homage to the layered facets of performance, and the evolutionary versatility of Black creativity across vocal, instrumental, political and written disciplines. With this single curation, profound threads of past and present artistic virtuosity were weaved together in an animate tapestry of remembrance, dedication, and future possibilities.
Through performance, a synthesis of sound, faith, language, ideas and highly-skilled instrumentation consumed diverse crowds. That diversity was as much generational and cultural as it was racial; twenty-somethings in their content-creator looks of the day, seventy-something retirees in their Sunday morning and evening cocktail attire. We didn't just witness visionary works live "in concert," we basked in the charge of the atmosphere as a collective of strangers among familiar faces and sentiments. And most comparable to the legacy of the actual Eldorado Ballroom in Houston, the celebratory sense of proper honor to over a half century's worth of Black performance was palpable.
Reflecting on the series, we are moved to generate acts of permanence through these moments with a commemorative zine, and a T-shirt in collaboration with Wales Bonner.
Photography by Bolade Banjo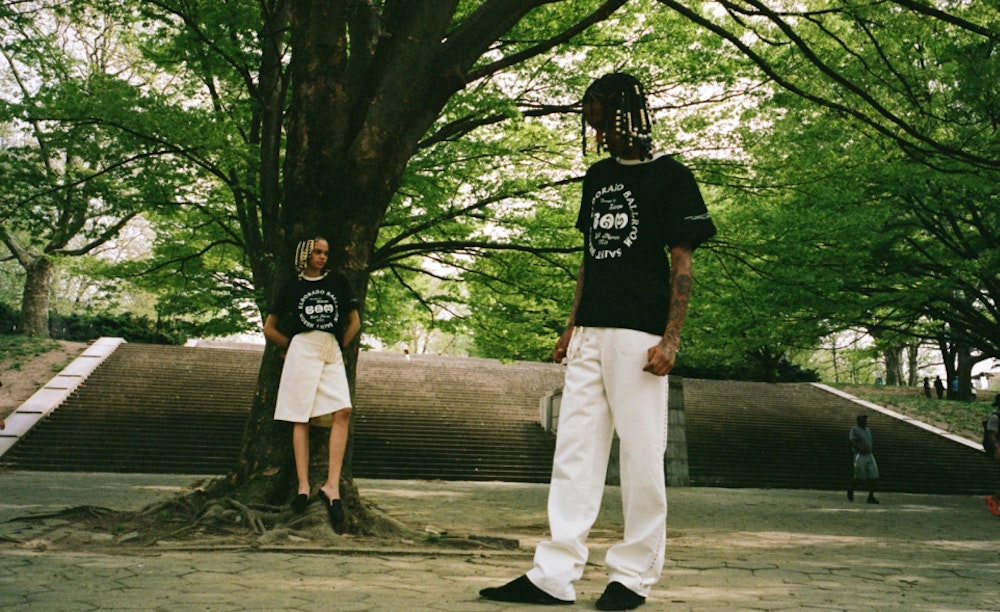 Photography by Bolade Banjo
Grace Wales Bonner launched her eponymous label following her graduation from Central Saint Martins in 2014. Informed by broad cultural research, Grace embraces a multiplicity of perspectives; thus, Wales Bonner proposes a distinct notion of cultural luxury that infuses European heritage with an Afro Atlantic spirit.
"One of the core purposes of creating Saint Heron was to establish archives for future generations to experience and reflect on the histories that continue to inform and inspire artistry of today and the future," says Saint Heron founder and Creative Director Solange Knowles. "We are immensely grateful and proud to be collaborating with Wales Bonner in this mission as we share an ongoing commitment to research, rediscovery and archival preservation." This collaboration materializes history through Wales Bonner's and Saint Heron's mutual research-centered methods of creative production.
Our 87-page zine is presented as a portrait of the pulse of the series and features over 100 exclusive images shot by photographers CJ Harvey, Jeenah Moon, Rafael Rios and Silvia Saponaro. Including an interview with Eureka Gilkey — Executive Director of Project Row Houses (Houston, TX) — a narrative celebration of Linda Sharrock's legacy, and a brand-new, post-series conversation with Autumn Knight, the book was designed by Kai Jenrette with art direction by Solange Knowles and Sabla Stays, and written by Shantel Aurora. The zine was created with the intention to preserve captured moments from between performances, backstage and beyond.
It's our wish that these objects become part of your personal archives as symbols of the way we collectively safeguard our stories, and honor the historic moments between us.
Wales Bonner & Saint Heron Present: Eldorado Ballroom 2023 T-Shirt
The Wales Bonner & Saint Heron "Eldorado Ballroom 2023 T-Shirt" commemorates the Eldorado Ballroom Spring 2023 music series at Brooklyn Academy of Music (BAM), curated by Solange Knowles. The T-Shirt is crafted from 100% cotton, with a tonal embroidered logo on the chest and prints on the front, back, and sleeve. Contrast Collar, Screen Print, Embroidered Logo and 100% Organic Cotton.
Eldorado Ballroom 2023 Book
Presented by Saint Heron Press, our Eldorado Ballroom 2023 book is a 87-page portrait showcasing the pulse of the series. The visually-pleasing publication features over 100 exclusive images shot by featured photographers CJ Harvey, Jeenah Moon, Silvia Saponaro and Rafael Rios. The book also includes an interview with Project Row Houses' Executive Director , a narrative celebration of Linda Sharrock's legacy, and a post-series conversation with Autumn Knight.