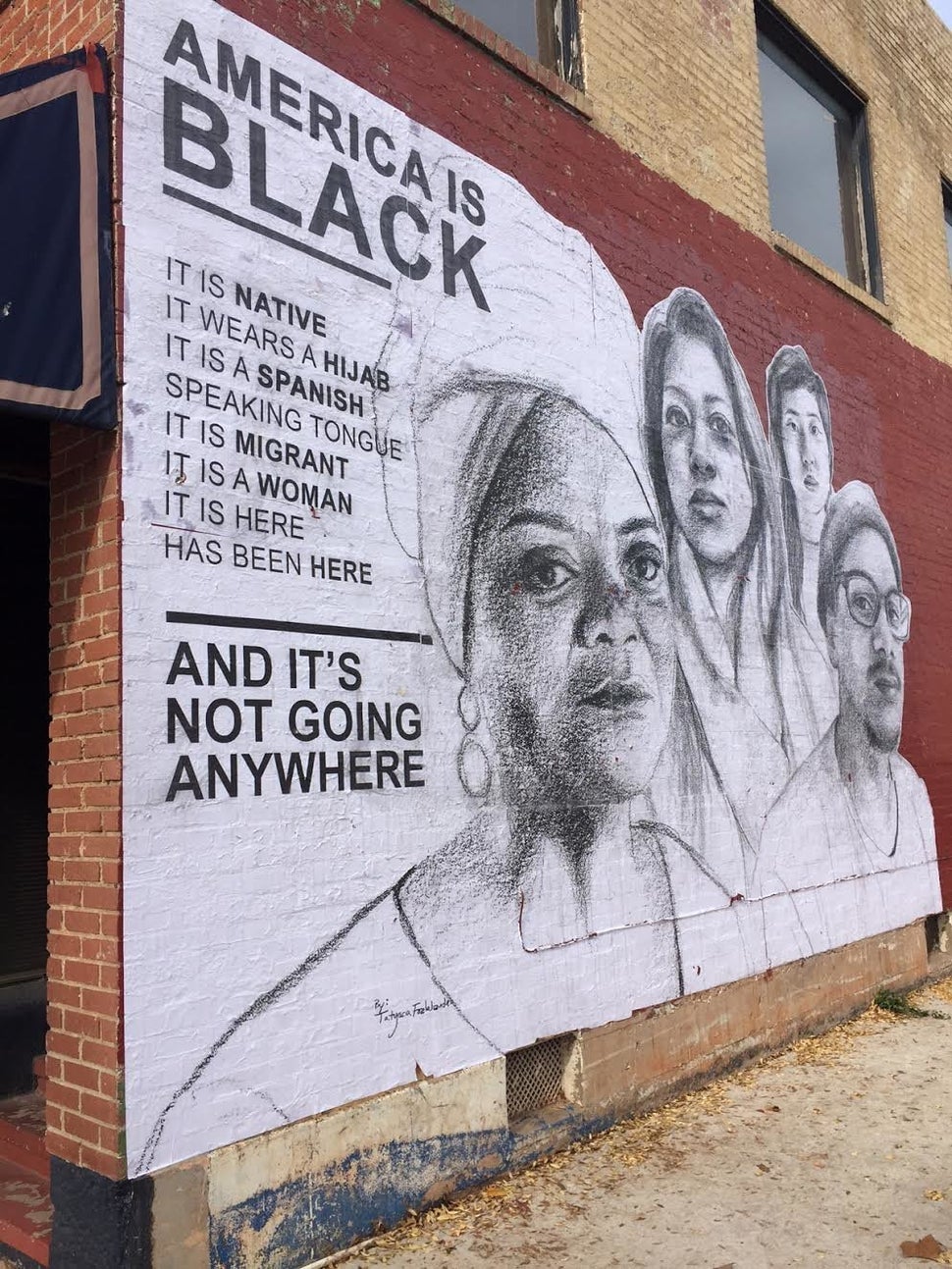 If you've ever been to New York and have seen the pencil drawn, wheat-pasted faces of defiant women above bold declarations, like "Stop Telling Women To Smile" and "My Name Is Not Baby", then you know who Tatyana Fazlalizadeh is.
She has been using her art to address street harassment for years. What started out as a project in Brooklyn has since spread across the country and into Mexico. Her portraits of women publicly defining themselves for themselves has tapped into something women all over the world hold within.
Fazlalizadeh is continuing to use her work to speak to power with a brilliant new piece in Oklahoma, a state that has been voting Republican since 1968. Fazlalizadeh has a message for this demographic and, by proxy, this country:
"America is black. It is Native. It wears a hijab. It is a Spanish speaking tongue. It is migrant. It is a woman. It is here. Has been here. And it's not going anywhere."
The brilliant artist released a statement about the piece via Instagram: "After the election, I immediately knew I wanted to make some public art during my trip to Oklahoma in a few weeks for Thanksgiving. I wanted to make something in a very Republican state that was a challenge to whiteness. So, I used a couple of recent drawings, one old drawing, and a drawing I did the day before installing this of my mother, to put together a diverse group of folks."
Thank you, Tatyana.
If you want to own some of Tatyana's work, she released a series entitled "A Constant State of Rage" about police brutality and extrajudicial killings that is free to download. You can also own her "Stop Telling Women To Smile: pieces via her shop.